"We love the final images!! It was great to go through and remember the day, see everyone's smiles and see bits we had missed out on being busy with something else. To be honest we pretty much forgot we were being photographed, Stewart blended in and we didn't really notice him much – we just enjoyed the day!"
Katie & Will
Isles of Scilly Wedding Photographer
Katie & Will's Wedding Day
Katie & Wills wedding on the Isles of Scilly was so unique and personal to them both. I am so pleased and feel very privileged they chose me to be their Isles of Scilly wedding photographer!
Their wedding consisted of two parts; 'Part One' being a small intimate wedding on the Isles of Scilly and 'Part two' the larger family and friends celebration on mainland Cornwall. There is so much to share from both of these days that I will do a separate 'Part 2' post soon.
First up, lets talk about 'part one' the Isles of Scilly wedding!
Katie and Will have a strong connection with Scilly, and in fact, this is where they met whilst Will was working at the sailing club at Porthmellon and Katie had joined for a summer to work there. Needless to say, they both love the place, it's very sentimental to them and they very much wanted to get married there.
My day started out photographing all the preparations at the Longstone Lodge on St Marys where Katie, Will and all of their family and friends were staying whilst they were on the islands. I had previously photographed Will's brothers wedding in Cornwall a few years back, so it was really nice to see so many familiar faces and also meet Katies family too! Both families were so welcoming and I really felt like one of the wedding guests, it was lovely!
The wedding ceremony itself took place on a small sand island that forms at low tide, just off the beautiful Island of St Martins. As you can imagine, this took some planning! 🙂  The sand bar only forms for an hour or so at best before disappearing, so the timing and conditions were super critical. Katie and Will both lived and worked on the Isles of Scilly, so they had good connections with the local boat hire companies and the sailing club and hired a passenger boat and a rib to ferry the guest from St Marys Island to the Sand Bar. It was amazing! The conditions on the day were calm, maybe not as sunny as Katie & Will had hoped but, trust me, it was beautiful and I hope the photos below do it justice!
The lovely Kim Baker humanist took the ceremony on the Sand Island and a celebratory drinks and few photos took place afterwards before we all departed back on boars to St Mary's. Back on the main island the wedding party had tea and speeches at The Golf Club with incredible views over St Marys Harbour and the Garrison. We then nipped down to town to do the legal ceremony at the Registry office at Porthcressa beach. Katie and Will then treated all their wedding guests to a lovely meal at the 'On The Quay' restaurant.
I absolutely loved be the wedding photographer Katie and Wills incredible and very unique small wedding on the Isles of Scilly. Please enjoy a few of their highlights below.
Isles of Scilly Wedding Photographer
Katie & Will's story....
Tell me a little bit about yourselves, for example, where did you meet?
We met on the Isles of Scilly, Katie had come across to teach sailing for the summer and Will was already working there. At first it was just friends and then on Katie's last day of the summer season romance was struck. However, we didn't know if it would develop into anything as Katie had to go back to Uni leaving Will on the Isles of Scilly until the next summer – clearly it did!
–
Can you tell me about the proposal?
Will knowing Sapphires were Katie's favourite stone set out to source a scottish one (these are very rare as they are only found in one place in Scotland which is now an SSSI). Having secured the stone he then found a local jeweller who would let him to help design and making the engagement ring. This process was started off in March and by November the ring was made. Will then made an advent calendar for me (Katie), which behind each door was a clue (a word from the stone's authenticity certificate). This was mildy frustrating as the clues were like "the", "of" and things like that which didn't give the game away. On Christmas morning Will took me (Katie) on a walk down to the river with my dog Skye (we were staying at my parents house and this nearly didn't happen as I was saying we should wait and go on a family walk with both dogs!). Once down at the river Will got out the advent calendar and got down on one knee. The last door in the advent calendar was a message "Will you marry me" and a wee tick box with "yes" or "no". Obviously I said yes!
–
Can you tell me about your venues and why you chose them?
We chose the Isles of Scilly as it was so special to us being were we met. The sandbar bit, well we just thought it would be amazing to get married there – it is so picturesque!
–
Were you going for a certain style or theme for your wedding?
Definitely turquoise (incase you can't guess from the photos) and then beach/sailing as we both love both so much and again both hailing from the story of how we met. 
–
What is the most memorable moment from the day?
Not sure there are so many! I think for both of us (although at slightly different times) it was landing on the sandbar and thinking "heck! we have actually pulled off this crazy hair brained idea"
–
Why did you choose Stewart Girvan Photography?
He had photographed Will's brothers wedding previously and we loved all the photos. It was really important to us to get good photos so we naturally thought of Stewart.
–
How did you feel about having your photos taken and were pleased with your final images?
We loved the final images! It was great to go through and remember the day, see everyone's smiles and see bits we had missed out on being busy with something else. To be honest we pretty much forgot we were being photographed, Stewart blended in and we didn't really notice him much – we just enjoyed the day(s)!
–
Can you tell me about any other suppliers that contributed and played an important part to your wedding?
So many people played an Important part for us: on Scilly it would be the beautiful flowers from Island Bridal Flowers, the hair and makeup which stayed wonderfully (despite a RIB ride) by Scilly Hair and Beauty , Endeavour RIB services and Seaquest for getting us to/from the sandbar! And the golf club/On The Quay for our food. 
–
Do you have any advice for future couples planning their wedding?
Go for it! We are so glad we went ahead with our crazy plan, even when others perhaps thought we shouldn't at points. It's your wedding follow your dream! And also make sure to take a few moments together to enjoy your day.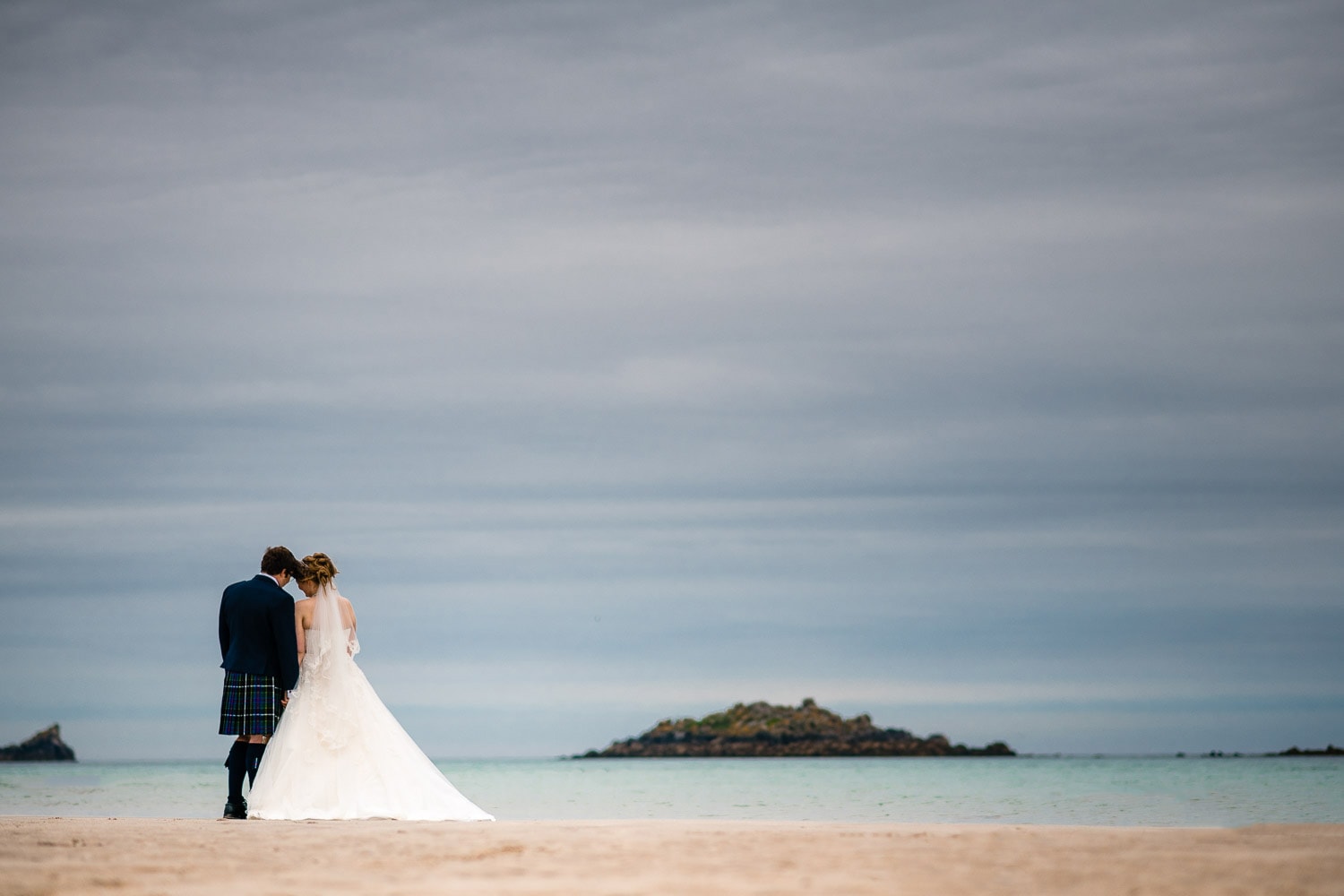 Katie & Will, thank you much for having me as your Isles of Scilly wedding photographer! It was epic guys! 'Part two' will be on the blog soon!
If you are looking for a photographer for your wedding in Cornwall or the Isles of Scilly, please get in touch, I would love to be considered!