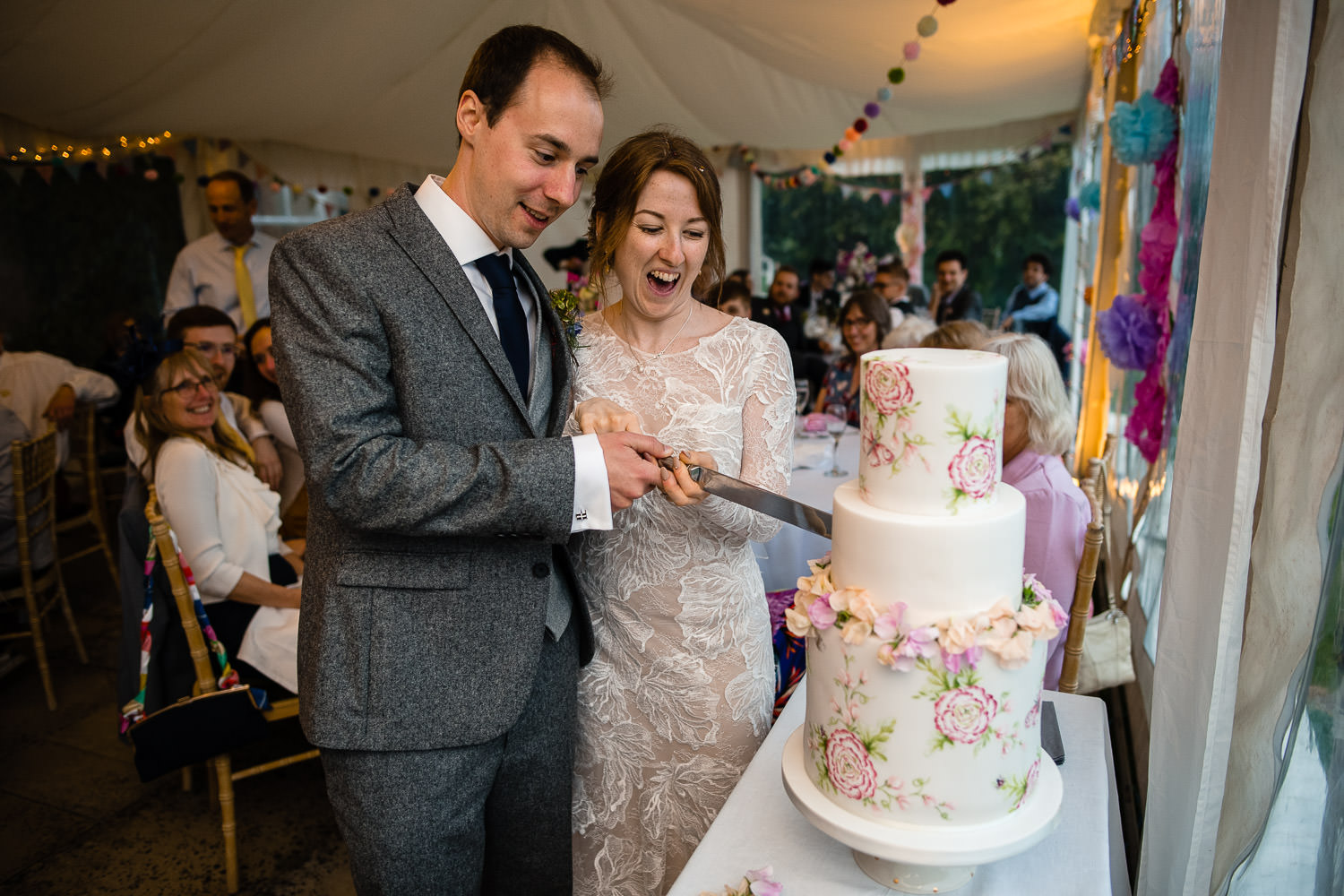 "We are delighted! The photos are gorgeous and we can't wait to show them to all the family at the weekend. They are exactly what we had hoped for, thank you so much."
Kirsty & Danny
Wedding Photography at The Vean, Caerhays
Kirsty & Danny's Wedding Day
I absolutely loved shooting Kirsty and Danny's wedding at The Vean, Caerhays. It was awesome from start to end.  On the day I started early to catch up with Kirsty who was getting ready at her family home in Truro and had her sister on hand to help her out with her preparations.  Kirsty looked amazing in her Justin Alexander dress. The dress was a work of art in itself, I don't think I have ever seen a such a dress quite like this one before, it was super long and had incredible detail!
Danny got ready at home with his brother and his dad.  They were in good form and keen for me to capture them with two mustangs they'd hired for the wedding.
The ceremony was held in St Clements Church just outside of  Truro. I always love it when the family have a special connection with a church and this was certainly the case with Kirsty's family.  St Clements is where Kirsty's grandparents and great grandparents were married and where Kirsty's uncle was formerly the vicar.  Kirsty's grandparents passed away in recent years so having the ceremony at St Clements was the perfect way to incorporate their memory into the wedding day.
The ceremony was beautiful and there was a lovely moment when Danny jumped in a little too quick to say his vows (he was keen!).  It made everybody laugh and I captured the moment.  Here, take a look!
After the ceremony there was a fun confetti moment using flower petals before everybody headed to The Vean, Caerhays for the reception.
I always love returning to shoot wedding photography at The Vean, Caerhays.  This beautifully restored Georgian country house is an amazing wedding venue.  When I shoot wedding photography at The Vean, I'm always spoilt for choice when it comes to stunning backdrops in my images.  Inside there are characterful and tastefully dressed rooms, outside sweeping gardens with views over Caerhay's castle gardens.  The Vean holds good memories for locals Kirsty and Danny, firstly as a coastal walk as children with their families and then later together as a couple.
Before I go any further, I must mention the flowers, they looked amazing!  They were all locally sourced and in season with an undone natural spring look that I know was exactly what Kirsty and Danny wanted.  So well done to Bec of The Garden Gate Flower Company!
Whilst I'm dishing out the praise, I will also mention Emily Hankins' beautiful wedding cake.  Entirely hand painted to a unique design chosen by Kirsty and Danny, it tasted amazing!
The evening celebrations started with a romantic first dance with Kirsty and Danny being accompanied by live band Electric Bandits.  They weren't alone on the dancefloor for long.  The band sang all of Kirsty, Danny and their guests favourite rock songs and they went down an absolute storm. The dancefloor was packed all night and I just kept on shooting away because everybody (including me) was having such a great time. The last song was 'Tribute' by 'Tenancious D' and seeing Kirsty and Danny one the dancefloor belting out the lyrics with their friends seemed the perfect end to an awesome day.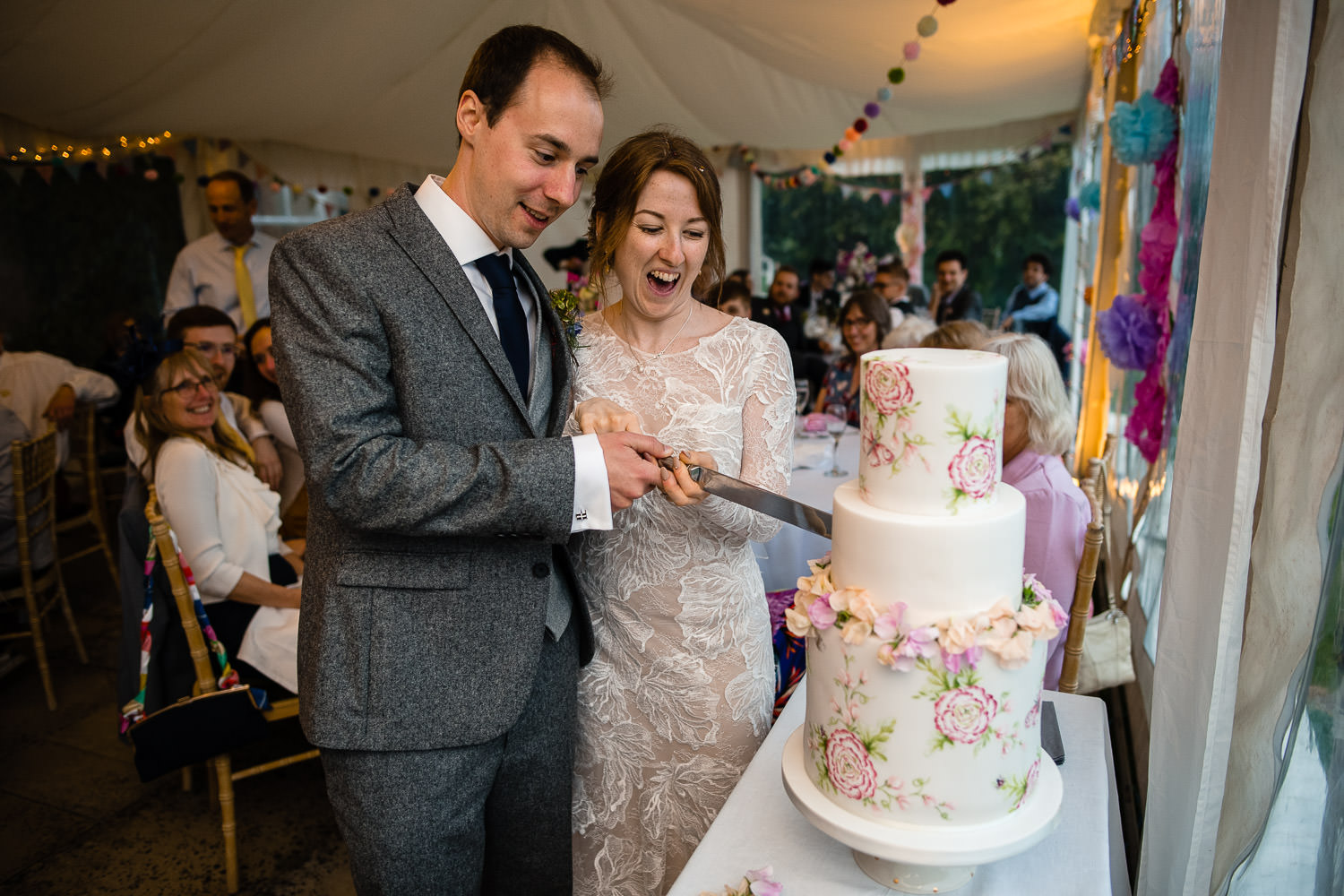 I loved shooting Kirsty and Danny's gorgeous spring Cornish wedding.  A beautiful, chilled out wedding culminating in an epic party!  Congratulations guys and thank you for having me as your wedding photographer! x
Wedding Photography at The Vean, Caerhays
Here is Kirsty & Danny's story....
Tell me a little bit about yourselves, for example, where did you meet?
Went to secondary school together, meeting aged 13. Kirsty fancied Dan but he wasn't interested. We ended up being put in the same tutor group at college, he still wasn't interested. When we left college he then worked out that he missed having Kirsty around and so they finally got together! They have been together ever since, living together at university and moving in together after graduation. 
–
Can you tell me about the proposal?
After 10 years together Dan finally proposed! He asked Kirsty's Dad's permission first and had everything planned for the coming weekend. Then the beast from the east arrived! They went for a walk from home in the snow and in the middle of a white field with no one else in sight Dan got down on one knee. Kirsty did eventually say yes after a string of expletives!
–
Can you tell me about your venues and why you chose them?
St Clement Church, Truro for the ceremony. This is where Kirsty's grand parents married, and where her great grandparents met and married. It is also where Kirsty's great uncle was the vicar for a while. Kirsty's grandparents have passed away in recent years but this was a way of having them with us on the big day and they would have loved that we had our wedding at St Clement. The Vean, Caerhays for the reception. We have spent time at Caerhays with families as kids and then together walking the coastline since. It is a place with a lot of special memories for us. The other draw was wanting to have an exclusive venue so that the only people there were those who we loved and wanted to share our day with. The house was gorgeous and gave us places to sit, to stand and have drinks, to dance. It was everything we wanted. 
–
Were you going for a certain style or theme for your wedding?
Relaxed atmosphere which allowed all our loved ones to just chill out and enjoy the day. In terms of decor and flowers etc – spring. 
–
What is the most memorable moment from the day?
The ceremony itself – Danny jumping in too early with his vows (he must have been keen!!). Stewart captured the laughter and facial expressions of all of us reacting to this perfectly! The shots of us during the ceremony, the subtle, intimate moments which we couldn't fully appreciate at the time are some of our favourites. The reception – finishing the night off with Tribute by Tenacious D and us just rocking out with our friends and family. 
–
Why did you choose Stewart Girvan for your Wedding Photography at The Vean?
Some excellent feedback and recommendations from previous couples read online. Seeing his work and loving the candid nature of the images and reading his ethos about fitting into your wedding. Then meeting Stewart and feeling instantly at ease, knowing that he understood us and what we were looking for. 
–
How did you feel about having your photos taken and were pleased with your final images?
We are generally very introverted individuals who hate having their pictures taken but Stewart put us at ease and made us feel relaxed resulting in the most amazing pictures – we couldn't be happier with the final images! The day went by so quickly that Stewart's photos and the conversations we have had about them with our loved ones have shaped the memories we have of the day. We are so pleased we chose Stewart. 
–
Can you tell me about any other suppliers that contributed and played an important part to your wedding? For example, florist, makeup artist, transport, entertainment
The staff at The Vean were incredible! Nothing was too much trouble and even though they do this all the time, you were made to feel like your wedding was as important to them as it was to you. Florist – The Garden Gate Flower Company. Bec was amazing, the flowers were exactly the undone, natural look we were looking for and everything locally sourced in season which was really important to us. MustHire Mustangs – mustangs. Enough said! The cars were awesome as were the ladies driving them. Just wow. Band – Electric Bandits. Damn those guys were good! They had the dance floor full all night! They allowed us to choose every song in the set and even learned something special for our first dance. We had a really rocky vibe for the music and they really pulled it off. Amazing. We had the best feedback from guests. Cake – Emily Hankins. Emily's cake was beautiful and tasted even better! Entirely hand painted to a unique design. She really listened to what we wanted for our cake and interpreted our ideas perfectly. It was almost a shame to cut it because it was literally artwork. So glad we have the pictures of it as a keepsake!
Elaine Rawlings Bridal in Truro. She was absolutely amazing and ordered the dress specially for me to try after I had seen it on the designer's website. It was a Justin Alexander Signature Collection dress. 
Are you looking for a photographer for your wedding at the Vean or in fact anywhere else in Cornwall? Please do get in touch using the button below I would love to be considered for your Caerhays wedding photography.